Legal notice
DATA PROTECTION AND SECURITY
When you wish to support our work or receive information and submit personal data by means of the online forms, Sentinelles complies with Swiss legislation on data protection. Data is treated as confidential and is not passed on, sold, hired out to third parties, individuals or organisations.
Data can however be lost and/or fall into the hands of unauthorised persons. Sentinelles declines all responsibility if private contents should reach a third party. Consultation of Sentinelles' site and the use of the payment platform, as well as access to other associated sites, is carried out under the exclusive responsibility of the visitor.
SECURITY OF PAYMENT ONLINE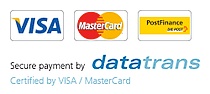 When making a payment online, you are automatically transferred to a secure environment. The data provided at the time of a payment online is protected by a secure Internet connection of the type SSL.
Your encrypted data is transmitted automatically and directly to the credit organism that will process it. This data is under no circumstances saved in our computer system. The partners for payment online are not authorised to divulge, sell or hire out your data.
If an error has occurred in the choice of the amount of your online donation, do not hesitate to contact us (+41 21 646 19 46 / admin@sentinelles.org). In most cantons donations are tax deductible by joining a copy of the payment, an extract of the online payment, a certificate of donation from Sentinelles, a Foundation recognised as a registered charity. A donation certificate is sent annually and can be obtained upon request at any time.